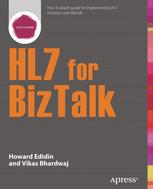 HL7 for BizTalk
HL7 for BizTalk provides a detailed guide to the planning and delivery of a HL7-compliant system using the dedicated Microsoft BizTalk for HL7 Accelerator. The HL7 Primary Standard, its various versions, and the use of the HL7 Accelerator for BizTalk are broken out and fully explained. HL7 for BizTalk provides clear guidance on the specific healthcare scenarios that HL7 is designed to overcome and provides working case study models of how HL7 solutions can be implemented in BizTalk, deployed in practice and monitored during operation. Special emphasis is given in this book to the BizTalk reporting functionality and its use to provide HL7 oversight within organizations. HL7 for BizTalk is suitable for use with BizTalk versions from 2006 R2 to 2013 R2 to suit the reader's organization. All three versions of the HL7 standard and their differences, are explained. Vikas Bhardwaj is a Technical Architect at Syntel Inc. Vikas has 14 years of IT experience with Microsoft Technologies like BizTalk Server, .NET, C#, SQL Server. Vikas has implemented various integration solution using BizTalk Server including one of the largest implementation of BizTalk and HL7. Vikas presently lives in Nashville, Tennessee with his wife Poonam and two kids Shivam & Ayaan. You can check out Vikas' blog at http://vikasbhardwaj15.blogspot.com/ and Vikas can be contacted directly at [email protected] Howard S. Edidin is an integrations architect specializing in enterprise application integration. Howard runs his own consulting firm, Edidin Group, Inc, which is a Gold Member of the HL7 International Organization. Howard's firm specializes in delivering HL7 and HIPAA Healthcare solutions and providing guidance in the use of HL7 with BizTalk. Howard is active in several HL7 Working Groups and is involved with the development of a new HL7 Standard. In addition to BizTalk, Howard works with Azure, SQL Server, and SharePoint. Howard and his wife Sharon, live in a northern suburb of Chicago. Howard maintains several blogs, biztalkin-howard.blogspot.com and fhir-biztalk.com. Howard can be contacted directly at [email protected]
Best Price: $99.99 from Apress, Springer Shop INT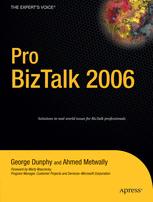 Pro BizTalk 2006 is a high-end resource that is based on real feedback from BizTalk developers. Authors George Dunphy and Ahmed Metwally are well known within the BizTalk community, and here they cover topics not discussed in other books, like performance...
---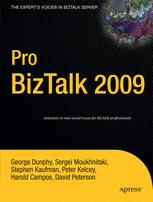 A compendium of best practices and implementation wisdom, Pro BizTalk 2009 is a revision of the highly-successful and best-selling Pro BizTalk 2006. The book has been fully updated to cover developments in BizTalk 2009. You'll find chapters on topics...
---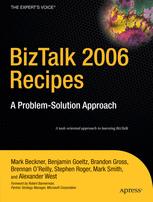 BizTalk 2006 Recipes: A Problem-Solution Approach is based on the experiences of many of the most prominent experts in the field. It features over 170 problem-solving recipes for BizTalk developers and administrators. BizTalk Server 2006 builds on the...
---
Results from Amazon.com...
Search for HL7 for BizTalk on Amazon...
About Us | Contact Us | Privacy Policy | Terms of Use | Support Centre | Partners| Articles
Automotive | Books and Media | Health and Beauty | Games and Toys | Home and Garden | Electronic | Eye Glasses | Hosting and Webmaster tools | Shoes | Jewelry | Sport and Outdoor | Pet Care | Software| Travel | x area| Indonesia
Copyright 2016 and beyond.