Pro ASP.Net 2.0 Website Programming
Tackling real business problems, this comprehensive reference book provides insights into practices that help reduce maintenance costs, decrease development time, and manage user perception. For those who have some familiarity with ASP.NET, VB .NET, and Visual Studio, this book shows how to harness the new features of ASP.NET to build Web sites that tackle real business needs.
Best Price: $4.98 from BetterWorld.com New Used Rare Books Textbooks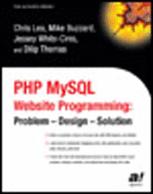 PHP MySQL Website Programming: Problem-Design-Solution shows the development process for a website using a specific set of technologies: the Apache web server, the MySQL database system, and the PHP scripting language. It gives you a completely hands-on...
---
Softcover book. 576 pages. Published by Wrox Press (2006)
---
ASP.NET 3.5 Website Programming
Problem - Design - Solution
Chris Love
Sharpen your ASP.NET 3.5 skills as you develop a real-world website
The ASP.NET 2.0 version of this book was the first to introduce experienced ASP.NET 2.0 programmers...
---
Results from Amazon.com...
Search for Pro ASP.NET 2.0 Website Programming on Amazon...
About Us | Contact Us | Privacy Policy | Terms of Use | Support Centre | Partners| Articles
Automotive | Books and Media | Health and Beauty | Games and Toys | Home and Garden | Electronic | Eye Glasses | Hosting and Webmaster tools | Shoes | Jewelry | Sport and Outdoor | Pet Care | Software| Travel | x area| Indonesia
Copyright 2016 and beyond.